Put-in-Bay Transportation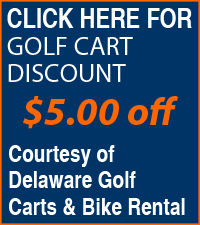 Getting around Put-in-Bay Ohio is as easy as hailing a taxi, renting golf carts, riding bicycles or mopeds, or even riding around in the luxury of a pedicab to tour South Bass Island Put in Bay. It is always a good idea to plan your trip in advance and be prepared when you arrive as golf carts often sell out on busy days and ferry lines can be very long if you try to bring your car over. PutinBay.com recommends the following transportation companies to serve your needs while visiting the Island.

Golf Carts, Bicycles and Mopeds
Golf Carts are the primary method of transportation on South Bass Island. You can reach any island destination in just 10 minutes from any other place on the island, no matter where you are (give or take if you are up on top of Perry's Monument, of course!). Make sure you reserve your cart early at either Put-in-Bay Golf Cart Depot or Delaware Carts, to avoid waiting in line and possibly missing out on the chance to rent one.
Both Golf Cart Depot and Delaware Cart Rentals' golf carts are licensed as motor vehicles on South Bass Island, and driven on public roadways just as cars are. They are designed in 4, 6, and 8 passenger configurations. All carts feature tops, windshields, headlights, turn signals and seat belts and are fully licensed and certified each year by the PIB Police Dept.

Put-in-Bay Golf Cart Depot rents by the hour, day or week and is one of the only overnight golf cart rentals on the island. All golf carts from Delaware Carts are gas models. THIS IS IMPORTANT! There is a big reason why the majority of Put-in-Bay visitors choose our gas-powered carts instead of the electric ones offered at the ferry docks. (1) Gas powered carts are faster! (2) Gas powered carts run for days on a tank of gas and not just hours (electric carts were only designed for a couple rounds of golf). (3) Gas powered carts do not get slower as the day goes on (electric golf carts gradually lose their charge thru the day).
Delaware Carts rents by the hour or day as well as all week and is popular because it offers both gas and electric carts, depending on yoru environmental bent. Our 4 and 6 seat gas carts are your passport for overnight and weekend or all week long rentals. We have a newer fleet of Yamaha fuel injected carts that will enhance your visit to our island paradise. Our 2 person electric carts are a fun and quick way for couples to cruise the island for the day. If you're bringing the kids, our 4 seat electric will be a big hit also. Our carts are super safe with retractable seat belts to keep your precious cargo safe and secure.
Delaware Carts also rents high quality Atlas bicycles and is home to Island Moped Rental, the island's only moped rental agency. Located at 266 Delaware Avenue, they are just a short walk from the Jet Express and just an Island Club Taxi ride from the car ferry.
Reservations are highly recommended and may be made by visiting or calling:
Put-in-Bay Golf Cart Depot - https://www.putinbaygolfcartdepot.com/ - 419-779-5147
Delaware Cart Rentals - http://www.putinbaygolfcarts.com/ - 419-285-2724
Put in Bay Taxi Service and Group Transportation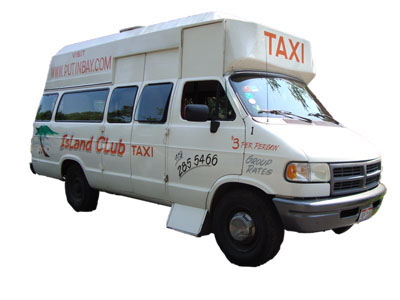 Whether this is your first visit to Put in Bay, or you have been here many times, Island Club Taxis is available to answer all your questions and provide your transportation. We want your visit to be a pleasurable experience. Please feel free to contact us via e-mail at reserve@putinbayreservations.com or PHONE at 419-285-5466 with any questions you may have about our taxi service and the island. We are available seven days a week, year-round, to assist you with all your transportation needs while visiting Put-in-Bay.
Island Club Taxis specializes in weddings, conventions, groups, school groups, business meetings, family reunions, and tours. We offer DISCOUNTED RATES to groups! Island Club Taxis and our other island business partners can assist you with wedding and reception location and arrangements, lodging, business meetings, catering, fishing charters, and camping. Let us do the planning for you and make your event worry free! To make arrangements for your group or just to ask questions about our special group services, contact us via reserve@putinbayreservations.com or call 419-285-5466.
Island Club Taxis has been serving Put-in-Bay and South Bass Island year-round, seven days a week since 1997. As members of the Put-in-Bay Chamber of Commerce, the company and its drivers volunteer our time to many worthwhile events on the island year-round. Contact us by email reserve@putinbayreservations.com with your questions or call 419-285-5466.
Island Club Taxis utilizes multiple 15 passenger vans with our famous island club logo on every van, so we are easy to identify. Our drivers are friendly, professional, and in uniform. All businesses on the island will recommend that you leave your vehicle on the mainland, as there is extremely limited parking on the island, especially in the downtown area where most of the attractions are located. Island Club Taxis will meet you at the ferry boat of your choice and handle all of your luggage and camping gear for you. Our normal business hours are 7:00 AM to 3:00 AM, seven days a week during season. Additionally, we are open 24 hours on Fridays and Saturdays between Memorial Day and Labor Day, including all major three-day holiday weekends. Contact us via email reserve@putinbayreservations.com for further information on Island Club Taxis, or call 419-285-5466.