Put-in-Bay News - MIST, the pool bar
Bye Bye Mr. Ed's Tiki Bar... and hello "MIST"!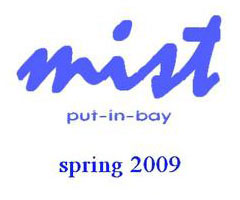 Well, it was a great run! The Tiki bar was the first pool bar on Put in Bay and it will definitely be missed. What started back in 1997, the Original Island Tiki Bar, is responsible for Mr. Ed's success! Without the belly flops, the rum runners, the Jer Bears, the loud music tickets, and all the crazy tourists, Mr. Ed's would not be where it is today! And we thank everyone for your loyalty! However, do not be too upset it's gone, because "MIST" will be worth the trip up to the Bay!
Coming Spring 2009! This breathtaking new pool bar will include... two bars... a forty-five by twenty-two foot bar out of the water (for all of you people that do not like swim up bars) and a 15-seat center swim up bar, two waterfalls, a gerado, four cabanas, vip services, and a 2000 square foot pool, with a breath taking atmosphere! MIST will be opening at the end of May, with DJ entertainment every Friday and Saturday afternoon and live bands at night.
Reserve your rooms at the Commodore Resort to have front row rooms to this amazing new attraction at Put In Bay!!!
www.commodoreresort.com
419-285-3101