Welcome to 2008 and another great season at Put-in-Bay!!
The 2008 Put-in-Bay Calendar of Events is finalized and posted for your 2008 Put-in-Bay Planning. Hotel reservations are coming it at a rapid pace so if you are planning to visit the island on one of the bigger weekends such as the Spring Fling, Memorial Day weekend, July 4th or the Christmas in July celebration be sure to call the reservation center today at 216-898-9951 or 1-888-PIB-STAY (1-888-742-7829) to secure your reservations!
Plan your next corporate meeting, Family Reunion or Company getaway at Put-in-Bay!
Tired of the same boring company meetings? Make your next event a memorable one at Put-in-Bay! The Put-in-Bay Resort & Conference Center is the island's only full service resort and conference Center with all rooms and amenities located in one convenient location!
The Put-in-Bay Resort can accommodate groups of up to 450 people in five different meeting rooms or our recently completed grand ball room. The conference center offers full on site bar and food service as well as complete audio and video packages. Enjoy our large heated pool with swim up bar & grill, 40 person Jacuzzi, and continental breakfast!
Meetings at Put-in-Bay combine a fun-filled yet productive environment where your attendees will look forward to their next company event! For more information on planning your reunion, corporate meeting or summer company outing please call 1-888-PIB-STAY and one of our representatives can assist you in planning your event! Alternately, visit our newly updated Conference & Meetings page on our newly remodeled website.
Put-in-Bay Resort introduces new and updated website! On-line booking!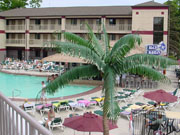 Stop by today and visit the redesigned website for the Put-in-Bay Resort - complete with on line booking, new photographs, 360? tours of the facility and general island information.
PutinBay.com Spring Fling Dates announced!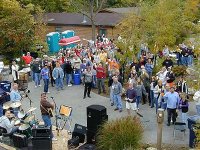 Don't miss the upcoming annual Spring Fling Customer Appreciation weekend May 2nd-3rd. This annual event is exclusively for guests of the Put-in-Bay Resort & Conference Center, Commodore Resort, Island Club, and Edgewater Hotel.
The event starts on Friday night with a street party, 20 Kegs of free beers and live entertainment. On Saturday, we have an all day party with three live bands, 30 kegs of beer and over 1000 hamburgers, hot dogs and side dishes. The heated pool and swim up bar are open as well as Ohio?s largest Jacuzzi seating over 40 people all at the Put-in-Bay Resort.
With each room booked, you receive 4 wristbands for the weekends events, with each suite booked you receive 6 wristbands.
Rooms for this weekend are $175 per night and suites are $325 per night. This weekend fills very quickly and we highly suggest that you get your reservation in ASAP.
To book, please call the reservation center at 419-351-5166. Thanks and SEE YOU AT THE BAY!!!
2008 Baybucks Available!
Don't forget to order your BAYBUCK$ to save hundreds on your next visit to Put-in-Bay. There are valuable coupons for everything from discounts on the Ferry Boats to golf cart rentals, dining, and entertainment! You can place your order here: https://www.putinbay.com/baybucks.htm

On Line Golf cart discount Coupons
If renting a golf cart on your trip to Put-in-Bay is in your plans, be sure to visit http://www.putinbay.com where you can print up a $5.00 discount coupon off an all day rental from Delaware Golf Carts
Delaware Carts is the Island ONLY overnight cart rental renting 4-6 & 8 person Golf Carts hourly, daily, overnight and multiple days.