Put-in-Bay News - April 15, 2007
Spring Greetings from your friends at Putinbay.com!
Spring is just around the corner at Put-in-Bay and we have so much news to share with you about the island that we are changing our e-mail format just a bit. A new Convention Center, new amusement park, new restaurants and new entertainment venues are just a few of the new things you will find upon your return to Put-in-Bay. Detailed below are numerous news stories where you will see a brief description of the new item and a "Learn More" link where you can read the complete details of the news story.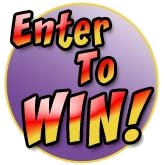 Also in this edition!!! WIN A TRIP TO KEY WEST FLORIDA FOR PUT-IN-BAY DAYS IN KEY WEST FLORIDA FEBRUARY 2008... LEARN MORE
Hotels and Rental Homes on Put-in-Bay are nearing sold out on weekends and peak summer season weekdays so be sure you have your 2007 reservations in place.
WIN A TRIP TO KEY WEST FLORIDA FOR PUT-IN-BAY DAYS IN KEY WEST FLORIDA FEBRUARY 2008!
Here is a fun and easy way to win a trip to Key West Florida to celebrate Put-in-Bay Days in February of 2008. The package includes Round Tip airfare on Southwest Airlines for 2 from either Cleveland or Detroit to Ft Lauderdale Florida, 3 days with a mid size rental car and 2 nights in a Key West hotel. Put-in-Bay days in Key West is a great way to break up that winter boredom and celebrate Put-in-Bay style in Key West Florida with many of your favorite Put-in-Bay Entertainer!
Here's how the contest works. Listed below are three of the most popular websites for Put-in-Bay. Simply place a link to one or all on your business or personal website, My Space or Facebook page. Place on link and you have one entry in the drawing. Place all three and have three chances at winning!
Once you have placed the link(s), for each link placed e mail PIBOHMARK@aol.com with the URL link to where you have placed the link and you are entered one time for each link! The winner will be drawn from those who have placed links on Labor Day September 3rd. 2007 Winner will be notified by e mail and reservations for flights and departing city must be reserved thru PutinBay.com by December 1, 2007.
Here are the websites to link:
https://www.putinbay.com
http://www.putinbayreservations.com
https://www.putinbayonline.com
Enter up to three times, once for each website linked, and perhaps we will see you in Key West Florida for Put-in-Bay Days in Key West 2008!
Put-in-Bay's Largest Convention Center nears Completion!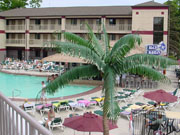 The Put-in-Bay Resort & Convention Center has expanded over the winter adding 3500 Square feet of meeting space making it Put-in-Bay's Largest conference facility with all rooms located on site. The resort features a swim up bar & grill, 40 person Jacuzzi and new pool view with balcony rooms. The resort can accommodate groups of over 400 people and is an ideal location for corporate meetings, weddings, and family reunions.
The Put-in-Bay resort offers a complimentary Continental Breakfast every day but Saturday where a poolside brunch is served. All rooms at the Put-in-Bay Resort feature free high speed internet, in room safes, irons and ironing boards and satellite TV.
The Put-in-Bay Resort & Conference Center offers live real time on-line booking and availability where you may check availability for your dates and make a reservation on-line.
The Put-in-Bay Resort is conveniently located one block from the main street where meeting attendees can enjoy Put-in-Bays nightlife, shopping and historical attractions while attending a productive fun filled meeting.
For information on booking your vacation or next meeting, Please call 1-888-PIB-STAY or e mail pibohmark@putinbayresort.com
2007 PutinBay.com Annual Spring Fling May 4-5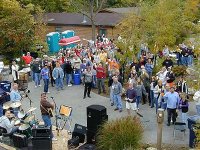 Don't miss the 2007 Putinbay.com Spring Fling kickoff weekend at Put-in-Bay. Hosted by the Island Club Rentals, Put-in-Bay Resort & Conference Center, Edgewater Hotel, and the Commodore Hotel. Guest of these establishments only are invited to a private party to enjoy 2 days of live entertainment, free food and over 60 kegs of frosty cold adult beverages.
Rooms are priced at $175 per night, Sleep 4 and come with 4 wristbands; Suites are priced at $325 per night, sleep 6 and come with 6 wristbands for the weekends events. Wristbands are required to be admitted to the parties and cannot be sold to non guests due to Ohio Liquor Laws.
The party starts Friday night in the streets of the Island Club with 25+ Kegs of frosty cold adult beverages and a live band around a few toasty bonfires. Saturday at 1:00PM we have 35+ Kegs of frosty cold adult beverages and over 2000 hotdogs, hamburgers and brats and 2 live bands.
Saturday evening the party moves in town to Mr. Ed's Bar & Grill where your wrist bands provide no cover charge admittance to enjoy live entertainment with "Moving to Boise" late night until 2:30 AM and a complimentary midnight snack buffet.
Visit our lodging page today and join over 1500 people for great food & beverage, entertainment great time at Put-in-Bay!!
---
Edgewater Hotel announces Schools out Special Dates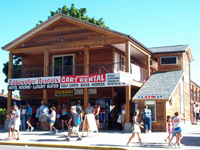 One of the islands most popular discount specials is the annual schools out special at the Edgewater Hotel located across the park and waterfront in historic downtown Put-in-Bay. Weekdays (Sunday thru Thursday) in April and May and the first 2 weeks in June book a hotel room normally $125 per night and receive a free upgrade to a suite normally $175 per night and a FREE GOLF CART RENTAL for the duration of your stay a $50.00per day value!! Suites are ideal for families and sleep up to six people with a full size refrigerator, freezer microwave and wet bar. To book call 1-888-PIB-STAY!!
Put-in-Bay Calendar of Events and Entertainment schedule now Complete
Be sure to stop by and view the 2007 island entertainment schedule and Put-in-Bay 2007 Calendar of Events to plan your special trip to Put-in-Bay! You may click on the top heading to sort the entertainment schedule by date, entertainer, or venue. Please note Pat Daily will now be appearing at the Boathouse Bar & Grill! Enjoy Pat's show in a more up close and relaxed atmosphere will some of the most reasonably priced drinks on the island and great dinner specials. Late night Ferry service provided by the Jet-Express to and from Port Clinton, Ohio.
---
Subway Restaurant opening in Commodore Hotel for 2007!
A New Late Night Healthy Choice!!!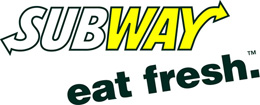 The 2007 season is fast approaching and everyone at the Commodore Resort and Mr. Ed's is excited! We have some suprises in store for you this coming summer that we know you will like. Have you ever looked around the island for your comfort fast food and not been able to find it? Are you sick of all the late-night grease-burger options? Look no further! We are adding a Subway franchise in our lobby for everyone to enjoy throughout the day, and to satisfy your late night cravings. You know what they say... Subway, Eat Fresh!
Memorial Day Weekend Bash at Put-in-Bay nears Sold OUT!
One of the biggest weekends of the year at Put-in-Bay is the three day Memorial Day weekend. The islands finest entertainers including three days of the Menus, Pat Dailey, Mike "Mad Dog" Adams, Westside Steve, Blackberry Brandy, the Websters and many more will provide non stop entertainment and action on the strip in downtown Put-in-Bay.
DJ Billy will provide poolside Music Friday, Saturday and Sunday the Put-in-Bay Resort & Conference Center heated swim up bar & grill and 40 person Jacuzzi! Enjoy great food at your favorite island eatery from Mr. ED's Bar & Grill famous wings to Lobster Bisque at the all new Boardwalk Restaurant!
Don't miss this great kickoff to the Summer Season at Put-in-Bay! Book your lodging today by calling 1-888-PIB-STAY
All New for 2007 at Put-in-Bay, Tailfins Amusement Park
The long anticipated Tailfins Amusement Park will open to the public Memorial Day weekend 2007 promising great fun and adventure for guests of all ages. Just a few of the attractions include a redemption Arcade, Video Games and Ride Simulators, Brunswick's Virtual Bowling Lanes, Animaland Stuff your own Collectible Animal. Water Blaster Bumper Boats, Water Wars, Batting and Soccer cages, Sport fishing Simulator, remote control boats, kiddie rides and an electric go cart track!!
Two great additions to Put-in-Bay dining options will be Tuscano's Italian Style Subs and Noble Roman's Pizza. Tailfins will feature the islands first "Golf Cart Drive Thru Pick-up window!"
What a great way to spend the day for a family outing, corporate event or just another reason for a great day art Put-in-Bay!
Boardwalk Restaurant Doubles in size for 2007
The UPPER DECK at The Boardwalk is Put-in-Bay's premier waterfront dining, drinking, dancing and partying destination! The large menu has something for everyone... Delicious fried Lake Erie Perch and Walleye, Live Maine Lobster, Oven-Baked pizzas, Black Angus Burgers and Fresh Salads. Be sure to check out the featured Specials that change DAILY!!! You definitely won't want to miss the NEW LATE NIGHT MENU served EVERY day of the week until 2:00 A.M. for vacationers and party- goers with late night appetites!
When it comes to Entertainment, look no further! The UPPER DECK offers LIVE Entertainment nightly with a mix of bands playing: 70's, 80's, Rock, Motown, Jazz, Country and Today's Covers. While you are partying make sure to try one of the Island's Best Frozen Drinks from their extensive Drink Menu. Also keep an eye out for their daily drink specials and NEW HAPPY HOUR prices! If you want to enjoy the best harbor view on the Island with great music, dining, and moderate prices, The UPPER DECK at The Boardwalk is the place to be!
On Line Golf cart discount Coupons
If renting a golf cart on your trip to Put-in-Bay is in your plans, be sure to visit https://www.putinbay.com where you can print up a $5.00 discount coupon off an all day rental from Delaware Golf Carts
Delaware Carts is the Island ONLY overnight cart rental renting 4-6 & 8 person Golf Carts hourly, daily, overnight and multiple days.