Put-in-Bay Downloadable Island Guide 2019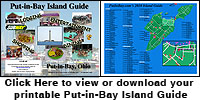 (Last updated 03-27-2019)
Download and view the full PutInBay.com Guide to the Island, in Adobe PDF format (3.58 MB).
Before you visit the island, you can print out our 10 page Island Guide and bring it
with you so you know where all the recommended Lodging, Dining, Entertainment,
Shopping, and Attractions are located. As a value-added bonus, we are
also including the 2019 Jet Express schedule for Port Clinton departures!
It is just a click away!
Check back often for updates, as we will be adding new printable coupons often!