Put in Bay Fishing
Put-in-Bay Ohio is also known as the Walleye Capital of the world. Put in Bay in Ohio's western basin of Lake Erie is the fishing destination of choice for small mouth bass, yellow perch and walleye. If it's top-notch Lake Erie fishing, you'll find it here!
Lake Erie is truly a sport fisherman's dream. Fishermen from all over the United States test their skills in the fertile waters of Lake Erie. From ice fishing to trophy walleyes to buckets of perch, you'll find it here in the waters of Put-in-Bay.
In the spring from early April to late May, schools of walleye are scattered along the reefs around the island. Perch, crappie, rock bass and smallmouth bass can be taken along the Island shoreline. In the summer, catfish are plentiful and the walleye can be found in the deeper waters surrounding the island. The fall finds fish moving back to the shallow waters around the Islands.
Fishing doesn't stop in the winter. The ice around Put-in-Bay becomes a small city of hundreds of ice shanties. There are several local, licensed fishing guides located on Put-in-Bay. Fishermen can stay overnight at the Bay Lodging Resort, the only hotel open on the island during the winter!
Fishing Licenses
Licenses can be purchased on Put-in-Bay at the Wharfside downtown, the Press House Corner Market near South Bass Island State Park, and at East Point Cottages. Licenses are valid from March 1, 2019 to February 28, 2020.
Rates for persons age 16 through 65 who have resided in Ohio for the past 6 months:
Resident Fishing License ................................................... $19.00
Resident Senior Fishing License ............................................ $10.00
One-Day Fishing License .................................................... $11.00
The One-Day Fishing License may be exchanged for credit, minus writing fee, towards the purchase of an annual fishing license.
Rates for Nonresidents of Ohio:
Annual Nonresident License ................................................. $40.00
3-Day Nonresident Tourist's License ....................................... $19.00
A reissued license may be obtained from any license vendor for a fishing license that has been lost, stolen, or destroyed. The cost is $3.00.
Boat Ramps
Public boat ramps are located downtown next to the Jet Express dock and at South Bass Island State Park.
Helpful Sites
For up-to-date fishing reports, lake maps, perch, walleye, trout, and steelhead information and much more visit:
http://www.dnr.state.oh.us/wildlife/tabid/6518/Default.aspx
Charter Boat Captains
Put-in-Bay Charter Fishing Service
Captain Park's Lake Erie Fishing Charters
Fishers of Men Sport Fishing Charters
Char-Tom Sport Fishing Charters
Capt. Denny Bergeman - Can't Miss Charter Service
Interesting Fishing Links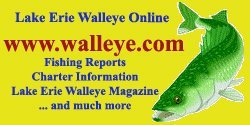 www.walleye.com The premier walleye fishing resource for the avid fisherman.
Great Fishing Sites:
Walleye Central One of the larger walleye information sites includes featured articles on how and where to catch a good walleye. There are many articles on walleye along with a store, a message board, a chat site and more. It's a place where walleye fishermen can ask for and give advice. It has information on walleye fishing clubs. While the geographical focus is the upper Midwest, it also features information regarding Western Lake Erie.
Great Lakes Angler Magazine An informational fishing publication covering the Great Lakes, with a fishing tournament calendar by region.
Ohio Department of Natural Resources Fishing Report Weekly fishing reports April through September for Lake Erie and other major Ohio waterways.
In-Fisherman.com This popular website features an abundance of information on all types of fishing in the Ohio Great Lakes.
Walleyes Inc Another great walleye site for the avid fisherman.
Bass Fishing Home Page If you are a Bass fisherman, this is the page for you. A great resource full of useful information about Bass fishing in the Great Lakes.
http://iceleaders.com/ If Ice fishing is your sport of choice, this informational site provides helpful articles and tips on ice fishing.
Ohio Division of Wildlife and the Fishing Information is sponsored by The Ohio Department of Natural Resource's Division of Wildlife. You may view a Lake Erie fishing report, fishing regulations, news about Lake Erie, lake maps and other fish resources.
Great Lakes Sport Fishing Council a collection of organizations and individuals involved in sport fishing the Great Lakes.
Weather and Other Resources
National Data Buoy Center on South Bass IslandInformation on wind direction, wind speed, wind gusts, atmospheric pressure, air temperature, and continuous winds for the Lake Erie buoy the closest to South Bass Island, Put-in-Bay
Marine Forecast from National Data Buoy Center This site presents the Lake Erie near shore marine forecast from the National Weather Service in Cleveland.
Toledo Weather Radar (Intellicast) Weather information updated every 15 minutes.