Put in Bay 2017 Events Calendar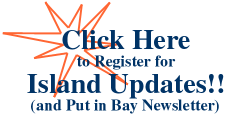 Welcome to Put-in-Bay Ohio Summer season 2017. Review the schedule of events where every weekend at Put in Bay is a new reason to have fun! Special events at Put in Bay start in April and run thru late October on the island.

Event dates may change! Please contact your favorite event to confirm dates and times before making your travel plans!




OCTOBER 2017





October 6

-

7

Putinbay.com's 19th Annual Put-in-Bay Fall Ball Customer Appreciation Weekend!
The unofficial end of Put in Bay summer fun is the annual Put-in-Bay Fall Ball. This event was the original street party which spawned the Spring Fling. It has grown in size each year for almost two decades as more and more people hear about it. The party is hosted at the Island Club Rentals subdivision and is exclusively for guests of the Island Club, Put-in-Bay Resort & Conference Center, Victory Station Hotel, Put-in-Bay Condos, Put-in-Bay Villas, Commodore Resort, Bay Lodging Resort, and the Edgewater Hotel only. You must be a registered guest at one of these establishments to attend. No exceptions will be made for liability purposes! Be sure to reserve your hotel room or rental home early as this weekend always books up and sells out quickly between the Party, the Wine Fest, and the football games!

What is the Fall Ball? It is a big block party that usually attracts over 1700 people for 2 days of free adult beverages, and a Saturday full of free food and awesome live entertainment to start the season off right! As a bonus for those who will be heading downtown, many island businesses offer great discounts on food and merchandise for party attendees who show their wristbands! Stay tuned for the special guest band --- CHECK BACK SOON!

Remember, book EARLY as this weekend fills fast! For Resort/Villas/Bay Lodging hotel reservations, please call 888-742-7829. For Commodore & Victory Station hotel reservations, please call 419-285-3101. For home rentals & Waterfront Condos, please call 216-898-9951. (click for more)

October 7

13th Annual Island Wine Festival
This fun event is located at the Put-in-Bay Winery downtown just along the street from the Boardwalk. It goes from 11:00 AM until 6:00 PM and admission is only $6. With your admission, you get a souvenier wine glass Guests get to sample hundreds of foreign and domestic wines, including island wines from Heineman Winery and Put-in-Bay Winery, and enjoy a relaxing afternoon of good food, and excellent wine. Admission is $6 and includes a souvenir wine glass. Sample tickets are $1 and most samples are in the $1-$4 range. Purchase a full bottle to take home. 11 a.m. to 6 p.m. at the Put-in-Bay Winery at the Doller Estate on Bay View Avenue downtown. Winery tours and a large silent auction that benefits the Lake Erie Islands Historical Society are some of the activities. (click for more)

October 9

Columbus Day
Most schools are out on Monday to celebrate and honor Christopher Columbus, so why not extend your weekend and stay an extra night? Most hotels that are open in October offer special deals to guests who want to add a Sunday night to their weekend stay. This means you can enjoy Oktoberfest on both Saturday and Sunday and not have to worry about driving home on Sunday night. Spend some quality time with the family on an extended island getaway! (click for more)

October 14

-

15

24th Annual Island Oktoberfest
This Put-in-Bay family tradition celebrates Oktoberfest with lots of food, good beer, and live entertainment by the ever-popular Maxx Band. Great family fun is had by all on Saturday from 11:00 AM to 7:00 PM and again on Sunday from 12:00 PM to 5:00 PM. Come join us and enjoy a wide variety of German foods including spatzel, cabbage rolls, brats, sauerbraten, Wiener schnitzel and all your favorite German sweets! And don't forget the German beer! This event is held under a large tent located on Toledo Avenue across from the BoatHouse. The entry fee is $4.00 for a 1-day pass or $6.00 for a 2-day pass. Children 12 and under are free when accompanied by an adult. (click for more)

October 20

-

21

The Wake
This longtime Put-in-Bay tradition celebrates the passing of another summer season. Join friends and islanders for a fun filled weekend, one of the last of the season! The main festivities occur at the Roundhouse Bar and Park Hotel on Saturday night. Guests pay a modest entry fee to go through the "haunted" hotel and pay their respects to the 2017 season which is commemorated by a casket before making their way into the bar for fun, drink, and great entertainment. This has been a 34 year tradition that is still going strong. (click for more)

October 27

-

28

Halloween Boo Bash at the Bay
What do you get when you mix over 2,000 people in costume, frosty cold adult beverages, and great live entertainment? You get Ohio's largest island Halloween Party and a great time! Costume Contests with numerous prizes cash prizes take place at Mr. Ed's Bar & Grille! Downtown bars and taverns decorate with a haunting theme! Book early as this weekend usually fills up! This is the island's last big weekend of the year and doors close on Sunday at 11:00 AM sharp, so don't miss out on your last chance to party at Put-in-Bay for 2017! (click for more)
Please Note: all dates are tentative and based upon the best information available to us at the time of making this calendar. Please contact event sponsors for full details and exact information. Putinbay.com is not liable for any changes made to published events, costs, dates, or information. Thank you for your understanding.