Advertise with PutinBay.com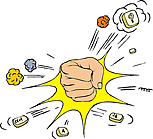 Get Hit Here!!
www.putinbay.com
Over the last eight years www.putinbay.com has received as many as 850,000 documented unique visitors in a single month.
Your business could get hit here too!
Advertising opportunities include several pricing packages that include a custom designed web page for your business by our top-notch designer, Charles K. Reed, and placement in the www.putinbay.com section that best suits your needs.
All advertiser revenues are re-invested into paid listing services such as Google, Bing, Overture, Lycos, AltaVista, Yahoo, AOL, and MSN that keep this site ranked in the top ten in ALL major search engines.
There are no hosting fees and very low cost put in bay web page development. You can even update your page 2 times per year. All website stats are made available to paid advertisers. If you wish your own site developed, we can help with that as well.
For additional advertising opportunities, please e-mail us